Videos about FT and the World Championships
Congratulations to the Protea Team for 2023, they will compete in the World Championships at home in South Africa to be held in August https://wftc-2023.com.
South Africa wins Gold – Congratulations to the South African Protea team for winning and taking the gold medal at the 2023 World Championships hosted locally at Kommandonek Resort. Not only did the Protea Team win convincingly, but Gerhard Genade also won the coveted World Championship title in a 3 way shoot-out.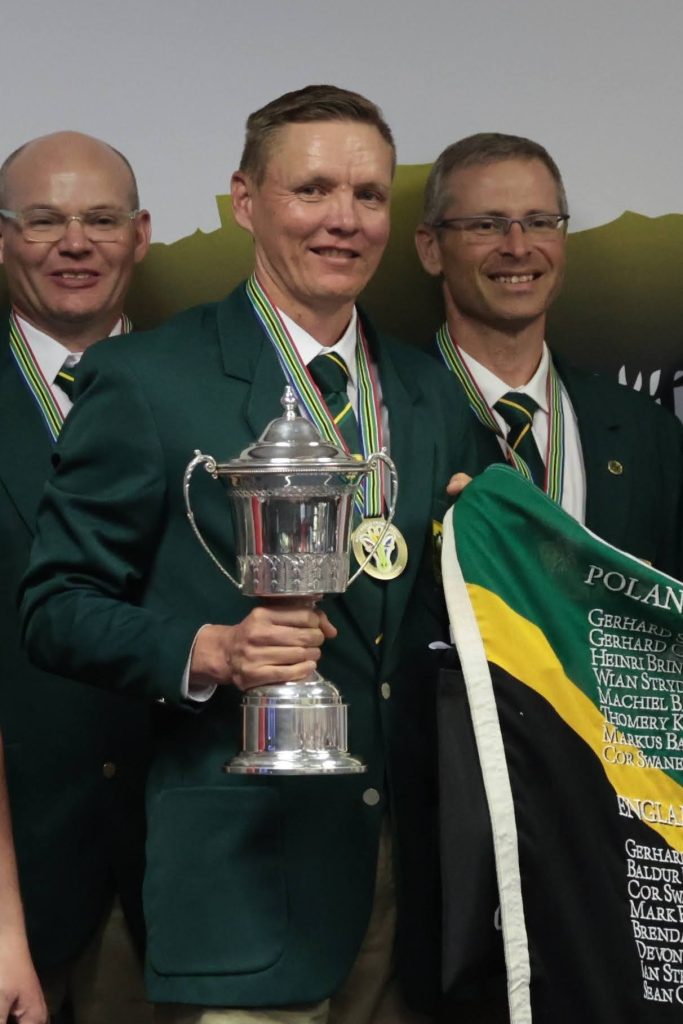 Current Protea Team
| | | |
| --- | --- | --- |
| 1 | Gerhard Genade | SNR |
| 2 | Heinri Brink | SNR |
| 3 | Derek van Niekerk | SNR |
| 4 | Gerhard Strydom | SNR |
| 5 | Machiel Basson | SNR |
| 6 | Danel van Tonder | SNR |
| 7 | Jan Steytler | SNR |
| 8 | Wian Strydom | VET |
Field Target is an outdoor air gun discipline originating in the United Kingdom, in the early 1980s, but gaining popularity worldwide.
The World Field Target Federation (WFTF) ruled on 22 February 2007 on adding to the "core rules" an official limit of 12 ft·lbf (16 joules) for all competitions under her organization and ruling. The WFTF has more than 33 member countries spread across all 6 continents.
Targets may be placed at any distance between 9 meters and 50 meters from the firing line. Targets are often placed at about the same height as the shooter, but it is not uncommon for them to appear high up banks or in trees, or down steep slopes.
Points are scored with 1 for a hit (resulting in the face-plate falling), and 0 for a miss (whether it strikes the surrounding face-plate, misses it, or "splits" on the edge of the kill but fails to down the target). The highest score of a competition forms the benchmark for all the other scores, they are calculated as a percentage of this score rather than the total number of targets. This means that competitors attending a shoot on a windy day will not necessarily affect their average score over a season, as the highest score of the day will probably be lower.
Pre-Charged Pneumatic (PCP) rifles are more popular than spring guns as the much lower recoil provides more confidence in aim for most people. There are some FT shooters who compete at a very high level with a spring gun, and a well-engineered gun, shot with some skill will be no less accurate than a PCP. There are some "dedicated" FT designs available, with the main features being a deep stock or adjustable platform ("Hamster") to rest on the knee while shooting seated, a high or adjustable cheek-piece to suit the large telescopic sights, and often an adjustable butt or butt hook. Many experienced shooters have chosen to use made-to-measure custom stocks for their rifles.
Telescopic sights are favored for obvious reasons – it is often difficult to see the kill zone of the furthest targets clearly with the naked eye. Another advantage of high-magnification scopes is their ability to act as a simple range-finding tool. At very high magnifications, most scopes have a very shallow depth of field, and one can accurately focus on a series of targets at known distances and mark the scope for future reference. In competition you simply focus on the target and deduce the distance from the marks you made on the scope's focus control. Some scopes use a side-wheel parallax adjustment to control focus (rather than a camera-like focus ring on the objective bell of the scope), and this allows the use of large diameter wheels to increase the distance between range markings and effectively improve ranging resolution.
Wind reading training and development of your skills and abilities. Enter your rifle set-up and the game will mimic the wind and the effect that it would have on your set-up.